StriPad is currently in development. Look and functions are expected to change. I'm currently working on the widget integration.



Here's the main screen :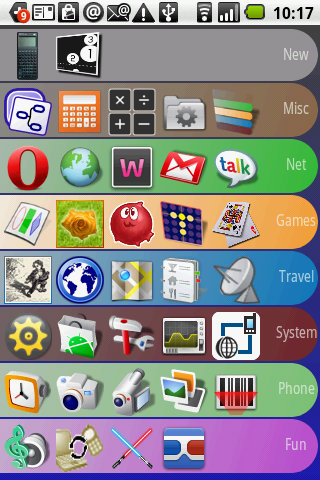 As you can see, application names are not shown but that's not a problem because the application visible here are the ones you launch frequently, you know what they are just by their icons. Notice how many applications you have just ready to be launched ?
When you install a new application, and until you sort it, it remains visible in the top stripe ("New"), so that you don't forget to test it. Of course, at your first launch of StriPad, all applications are here.
You may want to have a reminder of what those applications are, or maybe their number is important, so just click on the right part of the grey stripe to "open" it :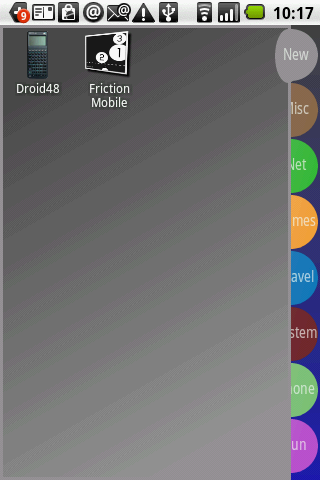 Let's close the stripe and drag and drop the second application to the proper stripe (it's a game, and good enough so that I decide to keep it) :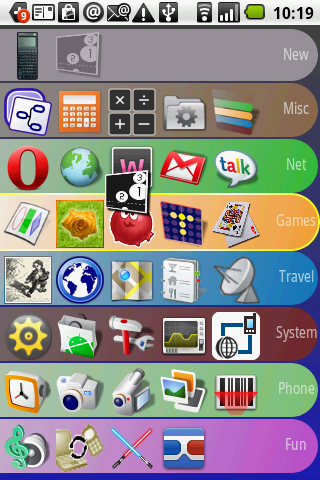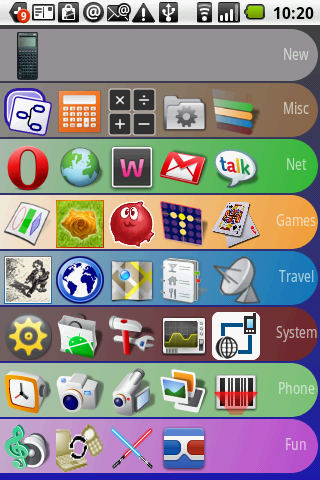 As you can see, this new application isn't visible on the main screen. The reason is that only the applications you really use deserve this honour. On the main screen only the 5 most launched applications of each category are displayed (a little more if you have a greater screen), the most used being at the left.
If you're looking for a specific game (or any game because you want to change) that is not visible on the main screen, you just have to open the stripe :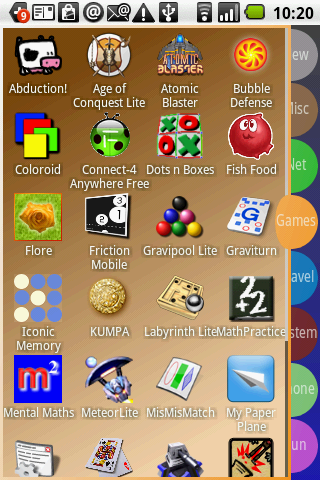 I have a lot of games (this is my most filled category) so you may have to scroll to find the application you want. But this list is much smaller that the big all-including list of the native launcher, so it's much easier !
Here are two other categories. When the stripe is open, applications are displayed alphabetically sorted :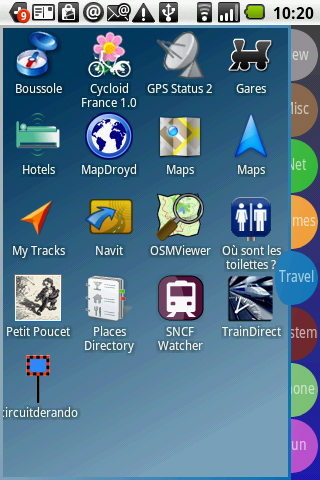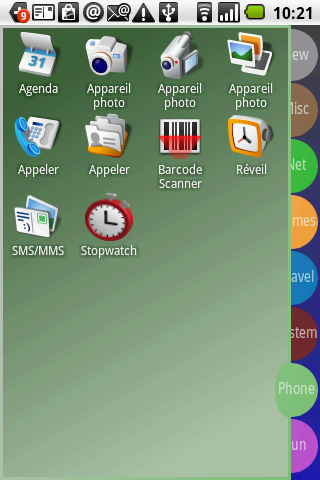 We saw how we can drag an application on the main screen in order to change its category. Of course you can do the same when the stripe is open :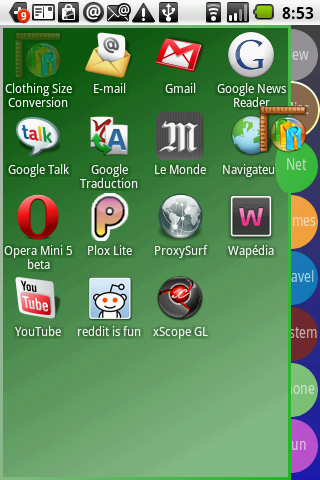 Let's not forget this is a launcher. If you want to launch an application simply click its icon :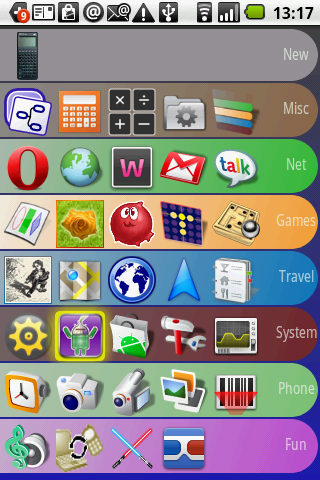 You can edit the name and color of the stripes. To do this do simply a "long touch" on the stripe's name :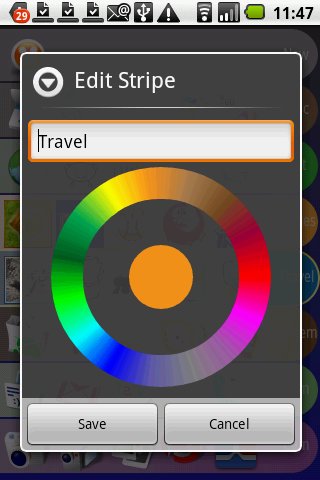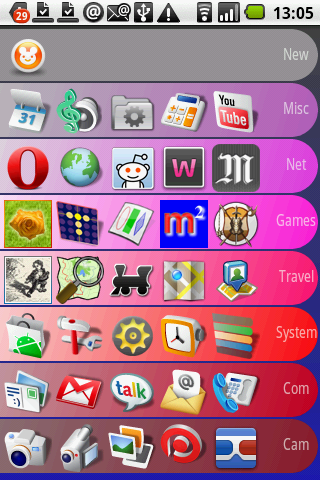 A long press on an application icon enables you to switch to this application or to see it on the market (where you can upgrade it, note it, or uninstall it) :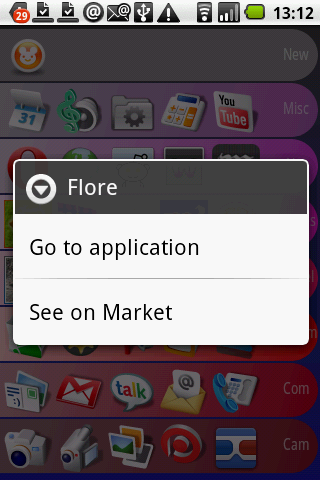 If you're tired of StriPad, you can of course go back to your native launcher, using the menu :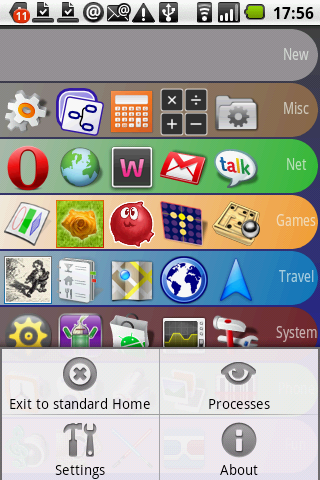 As you saw in this menu, there is also a "Processes" feature, displaying the memory used by every running processes. It is possible, from this menu, to kill an application (rarely needed).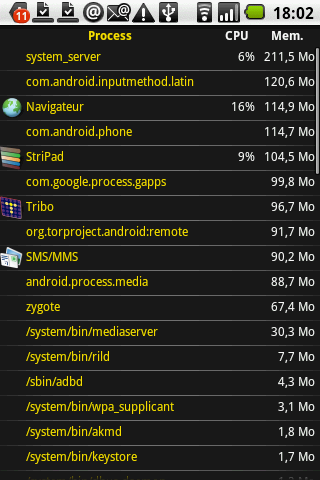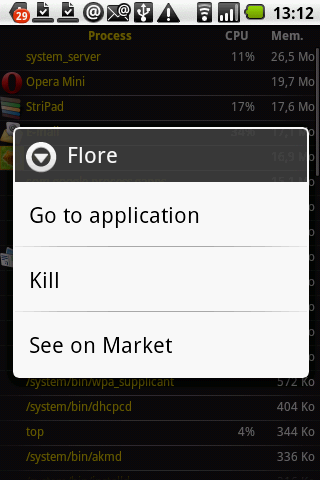 As I said before, StriPad is not finished. Here's a short list of the main things I have not completed (and so I cannot show) :
I'd like to provide a better set of initial stripe names (suitable to almost everybody)
Definitive StriPad exit (today you have to go to the settings to say to the OS he must forget the "prefered launcher".
Help and introduction
Maybe make it prettier (I don't plan to add wallpapers, I find them counter-productive)